YOUR BACKYARD CENTERPIECE: SO MANY OPTIONS!
The Radiant Semi In-ground Grecian Pool is the perfect backyard centerpiece for summer poolside barbecues, or simply soaking up the sun in your favorite lounge chair. This pool can be installed semi in-ground or all the way in-ground. Sloped terrain is no longer a problem! At least 50% of the pool wall (26″) must be installed below the ground. The Radiant Semi In-ground Grecian Pools are available in 52" wall heights.
HALFWAY IN AND ALL DECKED OUT: WHEN ONLY AN INCREDIBLE POOL WILL DO!
The Radiant Semi In-ground Grecian Pool, gives you options on installation and finishing! You can add a full deck to this amazing pool using 5/4 wood receptor coping. With this option, you get a clean finished edge, creating a smooth transition from deck to pool. Add a walk-in step, and you enjoy the look and feel of an in-ground pool for a fraction of the price. Whatever your vision, Radiant Keystone Series Pools offer you the size, shape and install options to create your backyard retreat!
YOU'LL FIT RIGHT IN: NEIGHBORHOOD COMPLIANCE
The Radiant Semi In-ground Grecian Pool has varied sizes and installation options that allow it to comply with the requirements and restrictions of many homeowner's associations regarding swimming pools. Now you can have the backyard you want in the neighborhood you choose!
Pool Series: Semi-Inground Series
Sizes Available: 15' x 29', 17' x 33', 17' x 37', 17' x 41'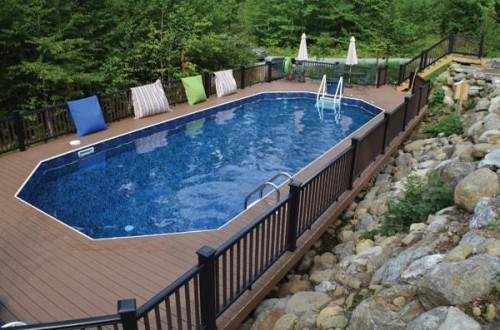 GET THE BEST PRICING TODAY
Please provide your information in the form below to get your quote.