The Saratoga Pool has an impressive 10½" top rail along with a stunning wall design that provides status and style to enhance any backyard.
Round Sizes: 12′, 16′, 18′, 21′, 24′, 28′
Oval Sizes: 24'X12′, 24'x16′, 28'X16′, 32'X16′, 34'X18′, 38′ X 18′, 41'X'21'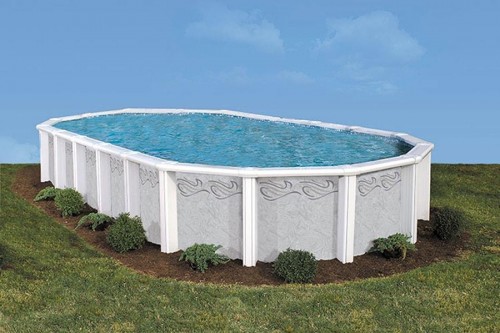 Beautifully Crafted Resin Top Rails & Vertical Supports
Industry-leading 10½" resin top rails and verticals offer strength and durability to the elegant pool wall design. This mix of beauty and bronze combine to create a pool that will last a lifetime!
Available In 52″ Sidewalls
Com-Pac II™ Oval Support System
Superior Engineering to maximize your pool. No other manufacturer can provide you with the spacesaving features of the Com-Pac™ II.
Zinc Clad™ 11000
With Hot Dipped Galvanizing and numerous protective coatings for protection and corrosion resistance.
Rugged Resin Components
Provide durability and longevity.
Take the first step in installing the pool of your dreams.
GET THE BEST PRICING TODAY
Please provide your information in the form below to get your quote.