If you think getting a gym membership or jogging in the park are the only ways to get into shape and stay healthy, we have a few home truths for you.
In fact, your best physical and mental health can be achieved right in your own backyard without expensive memberships or appointment costs.
By making a few changes to your outdoor space, you can not only increase the value and enjoyment of your home, but enable yourself to live a better, healthier life. Let's discuss the best ways you can improve your health and stay healthy at home.
3 Ways to Stay Healthy From Home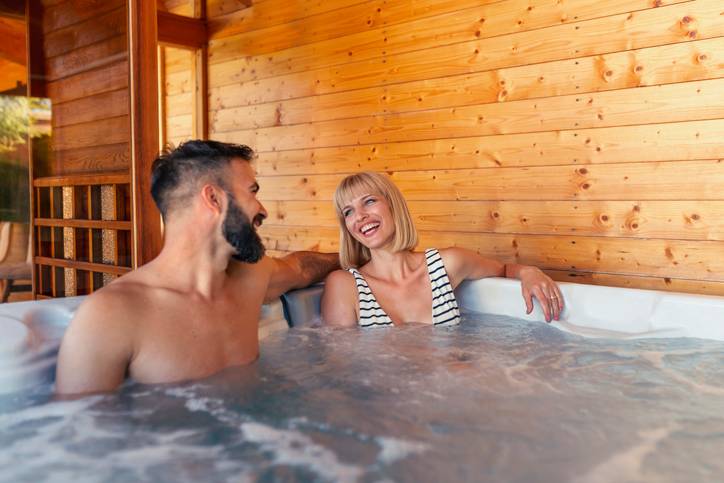 1. By Bringing the Spa to You
Learning how to relax and de-stress is vital to your good health. And one of the easiest, most enjoyable ways to do that is with a hot tub.
The powerful combo of heated water and jet massage truly can work wonders for your mind and body. The heat of the water spikes your body's endorphin production, which brings on feelings of contentment, helping you to relax.
The heat also improves your circulation and helps you to sleep better if you soak an hour or two before bedtime.
As an added bonus, you can increase your flexibility by adding some light stretches to your hydrotherapy routine. They're doubly effective when done in heated water because your muscles are warm and pliable.
Together, the heat and massage can offer relief from tight, sore muscles and can bring healing blood flow to injuries or problem areas.
Now that you know the health benefits, let's talk about how good it feels to soak in your spa. The customizable jets allow you to choose virtually any style of massage from Swedish to therapeutic to reflexology.
You can even enjoy a full-body massage if you purchase a spa with a lounge seat. Simply put, a spa offers pampering at its best right in the comfort of your own backyard.
2. With Water Exercise
Having a pool or a swim spa can be a lot of fun, but also offers an ideal way to improve or maintain your fitness. Swimming is one of the best full-body workouts around. Not only does it burn a lot of calories, but it also tones your muscles and makes you stronger.
Swimming isn't your only option for exercise, however. Most swim spas offer rowing equipment and resistance bands as add-on options.
Some other great water exercises for your pool or swim spa include jogging, jumping jacks, knee tucks, squats, and arm exercises with water dumbbells.
Whether you choose a pool or swim spa, you can rest assured that water exercise is great for burning a lot of calories, improving your cardiovascular health, and giving you a workout free of wear and tear on your joints.
3. By Getting Outside
Fresh air is a proven stress fighter. In fact, even as little as 10 minutes outdoors can lower stress hormones in the body.
The sun is also good for our health. It stimulates a chemical in the brain known as serotonin, which helps to regulate mood, memory, digestion, and appetite.
A great way to ensure you're getting enough fresh air and sunshine is by expanding your living space into the backyard.
Whether you buy patio furniture to create a sitting area for reading or conversation or you invest in outdoor dining set for outdoor meals with your family, there are many ways to sneak more time outside into your routine.
Living a Healthy Lifestyle with Van Dorn Pools & Spas
Our goal at Van Dorn Pools and Spas is to help our clients to stay healthy and enjoy their hot tubs, pools, and swim spas. As one of the top pool companies in Maryland, we can help you find the size and style that's right for you.
Visit any of our three Radiant Pool dealers to speak to our experts about purchasing a pool or to discuss pool liner replacement and other pool ownership topics.