In the whirlwind of our bustling modern lives, with schedules packed to the brim and endless to-do lists, the necessity for a serene retreat becomes more crucial than ever.
A sanctuary where the chaos of the day can melt away, and the soothing embrace of warm water can work its magic on both body and mind.
It's in these moments of tranquility that we can truly find a semblance of balance, a chance to pause and rejuvenate before diving back into the tumultuous sea of daily responsibilities.
For those seeking the ultimate form of relaxation and therapeutic indulgence, look no further than the luxurious 6-person hot tubs offered at Van Dorn Pools & Spas.
With three convenient locations nestled in Maryland and Pennsylvania, Van Dorn Pools & Spas beckons to anyone yearning to escape the stresses of everyday life.
Imagine sinking into the warmth of crystal-clear water, surrounded by the finest craftsmanship and state-of-the-art hydrotherapy technology, designed to pamper every inch of your being.
Whether it's a weekend getaway in your backyard or a daily ritual to unwind, these hot tubs offer an oasis of comfort and luxury, promising a rejuvenating experience that transcends the ordinary.
Join us on an exploration of the finest spas in the region, where we delve into the exquisite features and benefits of each model, guiding you towards the perfect haven to create lasting memories with friends and loved ones.
Let's embark on a journey of relaxation, laughter, and pure bliss, as we uncover the best 6-person hot tubs from the indulgent collection at Van Dorn Pools & Spas!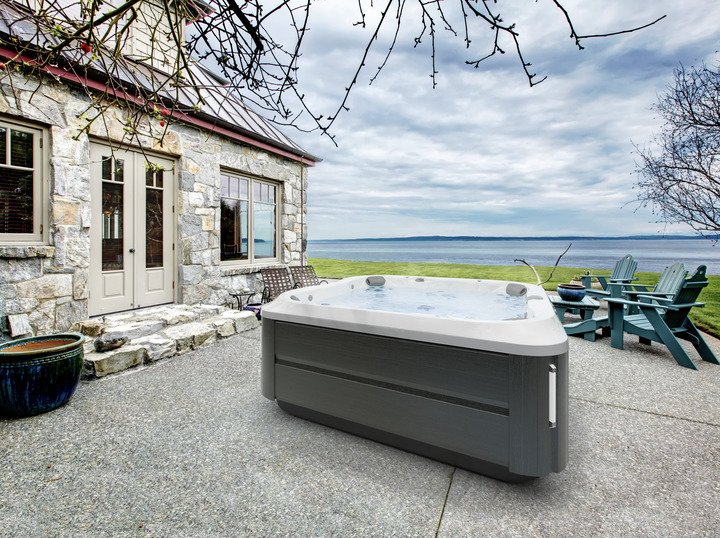 6-Person Hot Tubs by Jacuzzi®
Designed to offer unparalleled comfort and therapeutic benefits, Jacuzzi® combines innovative features, spacious seating, and customizable hydrotherapy, ensuring an experience that transcends the ordinary.
The J-485™ Model
The J-485™ Jacuzzi® hot tub is a masterpiece designed to cocoon you in a world of unparalleled comfort and rejuvenation.
With a focus on neck-to-toe muscle relief, this model boasts a high-back design and an adjustable pillow that can be tailored to your desired height, ensuring maximum relaxation for every individual.
The spacious, open-seat layout with room for 6-7 occupants sets the stage for intimate gatherings or solo soaks under the starry night sky.
What truly distinguishes the J-485™ from the rest is its exquisite Pro-Finish™ cabinetry, exuding a timeless elegance that seamlessly blends with any outdoor or indoor setting.
The corner accent lighting casts a gentle glow, creating an ambiance that is both inviting and enchanting.
Even more delightful is the exclusive extra-wide illuminated waterfall as it delicately caresses your neck and back, evoking a sense of serenity that transcends the ordinary.
Indulge in the luxury of the low-profile foot dome, an innovative feature designed to alleviate cramps and tension in tired feet, allowing you to truly unwind and revel in the moment.
With an array of PowerPro® jets boasting adjustable intensity, personalized hydrotherapy becomes an everyday luxury, ensuring that every dip in the J-485™ model is an experience tailored to your unique needs and desires.
The J-385™ Model
As the flagship model of the J-300™ Collection, the J-385™ Jacuzzi® hot tub sets the standard for opulence and sophistication.
This 6-person hot tub is a testament to the art of relaxation and indulgence.
Immerse yourself in a haven of tranquility, where the stresses of the day fade into oblivion, and every moment is dedicated to your well-being.
With a focus on comfort, the J-385™ model boasts a PowerPro® Therapy Seat that targets key areas of tension, leaving you with a sense of holistic rejuvenation.
The twenty FX™ Jets and a jetted foot dome work in unison to deliver a rejuvenating massage experience that is second to none.
The soothing waterfall cascades gently over your neck and shoulders for unmatched relaxation, while the LED-illuminated footwells, pillows, and cup holders add a touch of elegance.
Every aspect of the J-385™ spa is meticulously crafted to offer you the finest in luxury hydrotherapy.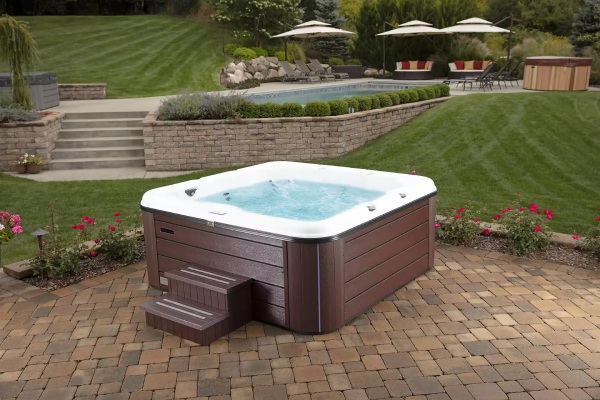 6-Person Spas by Nordic Hot Tubs™
Nordic Hot Tubs™️ are renowned for their commitment to affordable luxury and therapeutic relief.
With innovative features such as the Dual Therapy System (DTS™) and Nordic Star™ Stainless Steel Jets, you can't go wrong!
Nordic hot tubs offer a blend of powerful hydrotherapy and customizable massage experiences, providing a haven of relaxation and comfort for every user.
The Jubilee LS™ Model
Immerse yourself in the ultimate luxury of the Jubilee LS™ Nordic™ hot tub, where every dip becomes a transformative journey of rejuvenation.
With its dual-pump DTS™ hydrotherapy system, this 6-person hot tub is designed to lavish your senses with a powerful yet gentle massage.
Its therapeutic jets are strategically placed to target your neck, back, and feet with indulgent hot water therapy.
The carefully crafted, bucketed seating offers ample space for up to 6 or 7 individuals, ensuring that every soak becomes a communal celebration of well-being and relaxation.
The Encore LS™ Model
Escape to a realm of affordable luxury with the Encore LS™ hot tub, where the promise of complete relaxation becomes a reality.
Nestle into the corner captain's chairs or indulge in the No-Float™ lounger—two powerful choices to accommodate your relaxation preferences.
The powerful Nordic Star™ jets work their magic on every muscle, unraveling knots and tensions that have built up throughout the day.
Feel the stresses melt away as you surrender to the enveloping embrace of the Encore LS™, a haven of tranquility that beckons you to linger and savor every moment of pure bliss.
Jacuzzi® Hot Tubs vs. Nordic Hot Tubs™: Which Brand Is Right For You?
Jacuzzi® Hot Tubs and Nordic Hot Tubs™ are two prominent brands in the spa industry, each offering distinct features and benefits that cater to different preferences and needs.
With a focus on luxury and innovation, the Jacuzzi® brand has established itself as a pioneer in the realm of high-end hydrotherapy.
They've become renowned for their cutting-edge technology, elegant designs, and emphasis on personalized relaxation experiences.
Nordic Hot Tubs™, on the other hand, is celebrated for its commitment to affordable luxury, providing durable and well-crafted hot tubs that prioritize functionality, energy efficiency, and therapeutic benefits at a more accessible price point.
When it comes to design and aesthetics, Jacuzzi® hot tubs are often characterized by their sleek and sophisticated appearance.
With elegant finishes, ergonomic seating, and modern amenities, every model creates a luxurious, inviting atmosphere.
The Jacuzzi® brand's attention to detail is evident in its durable acrylic shells, ProEndure™ synthetic wood cabinets, and sophisticated control systems.
Each one of these elements contribute to an opulent and long-lasting hot tub experience.
In contrast, Nordic Hot Tubs™️ prioritize durability and practicality, boasting robust construction, energy-efficient features, and a focus on providing effective hydrotherapy at an affordable cost.
Nordic Hot Tubs™ emphasizes functionality, which is reflected in its Dual Therapy System (DTS™) and Nordic Star™ Stainless Steel Jets.
Each of these unique systems work together to deliver customizable massage experiences and targeted therapy, ensuring that users can enjoy the benefits of hydrotherapy no matter which model they choose.
While both brands excel in their respective areas, the choice ultimately depends on individual preferences, budget considerations, and desired features.
Are you looking for a premium hot tub experience with a range of luxurious amenities, or a reliable and cost-effective option that doesn't compromise on quality?
Both brands offer a variety of models to cater to diverse needs and wants, ensuring that anyone can find the perfect hot tub to suit their lifestyle and preferences.
As you embark on the journey of selecting the perfect hot tub for your sanctuary, consider the unique features and benefits of each model, envisioning the laughter-filled evenings and the intimate gatherings that await.
Let the warmth of the water and the gentle embrace of hydrotherapy become your daily ritual—a reminder to pause, breathe, and savor the simple pleasures that life has to offer.
Shop 6-Person Hot Tubs in MD and PA
In the realm of modern-day chaos and constant hustle, the need for moments of respite and rejuvenation becomes more essential than ever.
Van Dorn Pools & Spas, with its array of exquisite 6-person hot tubs, stands as a beacon of luxury and relaxation, and offers an escape from the strains of everyday life.
Regardless of the brand you choose, each model promises an unparalleled experience of serenity and well-being, right in the comfort of your own home.
Visit Van Dorn Pools & Spas at any of their three locations in Kingsville and Reisterstown in Maryland and Shrewsbury in Pennsylvania, to experience these luxurious 6-person hot tubs firsthand and find the perfect fit for your relaxation needs.
Embrace the art of unwinding, and let the stresses of the day dissolve into the soothing embrace of warm water and hydrotherapy.
Take a step towards a life where relaxation is not just a luxury but a necessity, where moments of joy and tranquility become the foundation for a well-balanced and fulfilling lifestyle.
Discover the transformative power of owning your own personal spa, and embrace the journey towards a happier, healthier, and more rejuvenated you.
Find your dream hot tub, indulge in the luxury of hydrotherapy, and make every day a celebration of relaxation and well-being at Van Dorn Pools & Spas.