The Best Swimspa In The World! You'll get even more room for at-home, total-body fitness with our newest 16Executive Trainer. The 16Ex Self Cleaning Executive Strainer stands as the best swim spa on the market. The 16Ex swim spa builds upon the success of our 19Ex. The patented current collector and V-Twin Jet technology optimize the flow of water. You enjoy the best swim in any swim spa on the market and you can still unwind with hydromassage jets, ergonomically positioned in the perfect position What makes the 16Ex stand out is the extra room for the most dynamic aquatic You'll always be ready for what's new and challenging in aquatic fitness. To swim, the current easily adjusts for every level, from toddlers to triathletes. Just turn to adjust the aqua control to easily swim in place. For aquatic exercise, let the swim current add resistance and build core engagement. The built-in Underwater Treadmill allows you to walk, jog or run in water's low-impact environment. With none of the pounding of dry-land activity, you'll burn just as many calories, plus benefit from 360-degree resistance! Combine that with our exclusive water watch, its like having a personal coach on your wrist. The durable, steel-framed cabinet has sleek, modern styling, combined with the patented self-cleaning technology it is a swim spa that's virtually maintenance-free.
Collection: Executive Trainer
Volume: 2010 US Gal / 7638 L
Wet Weight: 19394 lbs / 8800 kg
Dry Weight: 2560 lbs / 1162 kg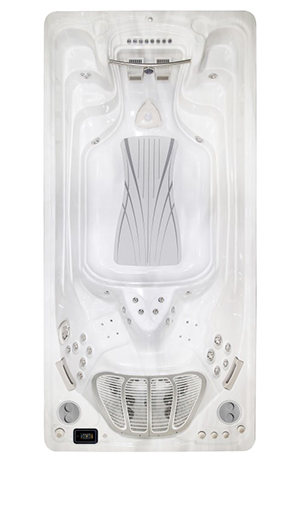 Install Inspiration for swim spas
GET THE BEST PRICING TODAY
Please provide your information in the form below to get your quote.