Our 19′ Self Cleaning Executive Trainer, gives you a more comfortable swim spa environment for swimming and total-body fitness. Our patented V-Twin Jet and Current Collector Swim Current comes standard, so you'll enjoy the best swim spa on the market. The swim current easily adjusts for every level, from toddlers to triathletes at the touch of a button with our Exclusive AquaPro Control. Smooth for in-place swimming, the spacious current also provides core resistance for more effective aquatic exercises. For low-impact jogging and walking, our Underwater Treadmill technology is standard. Aquatic running burns just as many calories, but without the pounding of dry-land activity. It's an excellent exercise to manage or prevent joint pain and overuse injuries. Combine that with the only watch that is specifically designed for swim spas and it's like having a coach on your wrist. The 19Executive Trainer hydromassage seats let you relax after a tough workout. Or power up the jets for an invigorating morning wake-up! Each ergonomically designed seat has a unique configuration of jets – choose the right one to target your sweet spot, or rotate among them for total-body relaxation. The durable, steel-framed cabinet has sleek, modern swim spa styling that's virtually maintenance-free. Finally, the Glacier Tech insulation system allows this swim spa to be used all year long as a four-season pool.
Collection: Executive Trainer
Volume: 2378 US Gal / 9038 L
Wet Weight: 22948 lbs / 10412 kg
Dry Weight: 3028 lbs / 1374 kg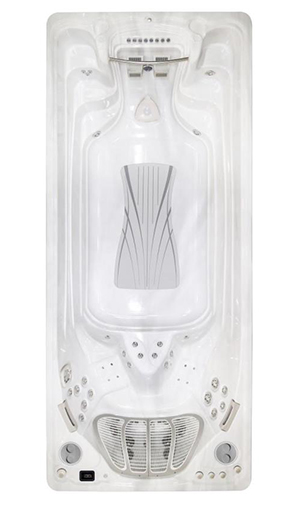 Install Inspiration for swim spas
GET THE BEST PRICING TODAY
Please provide your information in the form below to get your quote.