So you've got a great space in your backyard that you've always pictured yourself relaxing in with family and friends on the weekend or unwinding on a beautiful evening after a long day, but you're not quite sure what options will best suit your needs to make it your "dream yard".
Don't worry… we've got you covered. Take a stroll with us as we walk you through your perfect hot tub and swim spa options and give you some great outdoor decor ideas to take your backyard space from lack lustre and dullness to "wow, this is amazing!"
Getting Started With Hot Tub Design And Backyard Decor
Before we talk about decor though, it's important to have a clear idea of how you plan to use the outdoor space you have.
Are you looking to sit back and relax and enjoy a soak in a nice warm hot tub to chase your troubles away? Or are you looking to have a little more flexibility and be able to do some low-intensity, water-based exercises at the end of a hard day at the office – while still having the option to sit back and relax?
The answer to these questions will guide the direction you go with your design and backyard decor.
Should You Choose A Hot Tub?
Let's start by discussing the options available.
There's nothing better than sitting back and relaxing with beautiful warm water helping you to unwind as the jet-driven water helps ease sore muscle or joints you may have from the long day you just had.
Here at Van Dorn Spa and Pools we stock two of the best quality hot tub brands on the market.
Jacuzzi® Hot Tubs – With more than 60 years experience in the hydrotherapy industry, it is no wonder that Jacuzzi is the most well-known and trusted brand when it comes to hot tubs. With so many years of research and development (R&D), Jacuzzi® Hot Tubs pride themselves on delivering a product that is not about "the more jets the better", but rather the perfect combination of jets and their placement in their ergonomic seating that delivers the perfect massage time after time that will leave you feeling relaxed for hours afterwards.
Nordic Hot Tub™s – The design philosophy behind Nordic Hot Tubs™ is to keep the user experience as easy as possible so that all you have to think about is relaxing and unwinding. Nordic's R&D has seen the inclusion of a Dual Therapy System (DTS) which encompasses a combination of jet therapy and whirlpool therapy. Each Nordic Hot Tub™ has a jet position designed to give you relaxation through the jets as well as creating a whirlpool, which produces a high volume swirling water flow, providing gentle pressure that caresses your body with warm flowing water.
Hot Tub Design Decisions
Beautiful decor paired with either of the above premium hot tubs will allow you to create a space you'll look forward to coming home to every single day. To maximize the impact of the space — to create an oasis in your own backyard — you will need to ensure that the space you have to work with is optimized to its fullest.
As you're deciding on decor and design, think about the position of your hot tub. What do you want to be gazing at as you're relaxing, sipping a glass of chilled wine or cold brew? Don't forget about accessibility to the hot tub to ensure hot tub maintenance can be done quickly and easily.
Once the hot tub location has been decided, the next thing to think about is the decor and which look fits your personal style, along with the style of your existing outdoor area.
For example, maybe you would like a deck around your hot tub, making it recessed. Having the hot tub fully recessed into a deck or deck built around the hot tub at the same level as the top of the hot tub will cause that dreaded drop step to get into your hot tub. Not exactly comfortable to get in and out of!
Consider building the deck halfway up the hot tub to allow for an easier step in. This also looks better aesthetically. Other decor options to consider with your hot tub installation include the size of the space and whether you want any seating nearby. Is the seating to be on your deck or maybe on a paved area next to the deck or hot tub? The sky's the limit when it comes to your outdoor decor.
This decor decision will need to be factored into when deciding the size of your deck and the available space you have to work with. It's a lot easier to choose your hot tub first then design around it. Another option to consider would be to have a sunken seating section with a fireplace for those cooler nights.
If you've got a great backyard space to begin with, you'll want to use it year round, especially with a hot tub that is designed for relaxing and rejuvenating, no matter the weather.
Deciding On Your Hot Tub Decor
The key factors when deciding on your hot tub design and decor options is how you plan to use the space long-term and to ensure any decor additions you do include, add to the experience when you're sitting in the hot tub.
The worst thing that can happen is you add decor that completely detracts from the overall feeling you were looking for when you choose your hot tub in the first place. For example, you don't want any plants to be placed anywhere around the hot tub that will impact your view.
The key to timeless backyard design is to keep it simple. That might mean only needing matching steps and planters around your hot tub. No recessed decking is required. If you're looking for more of a natural retreat vibe, use big leafy plants, as these provide privacy and beauty. Ivy-covered trellises surrounding your hot tub work well, too.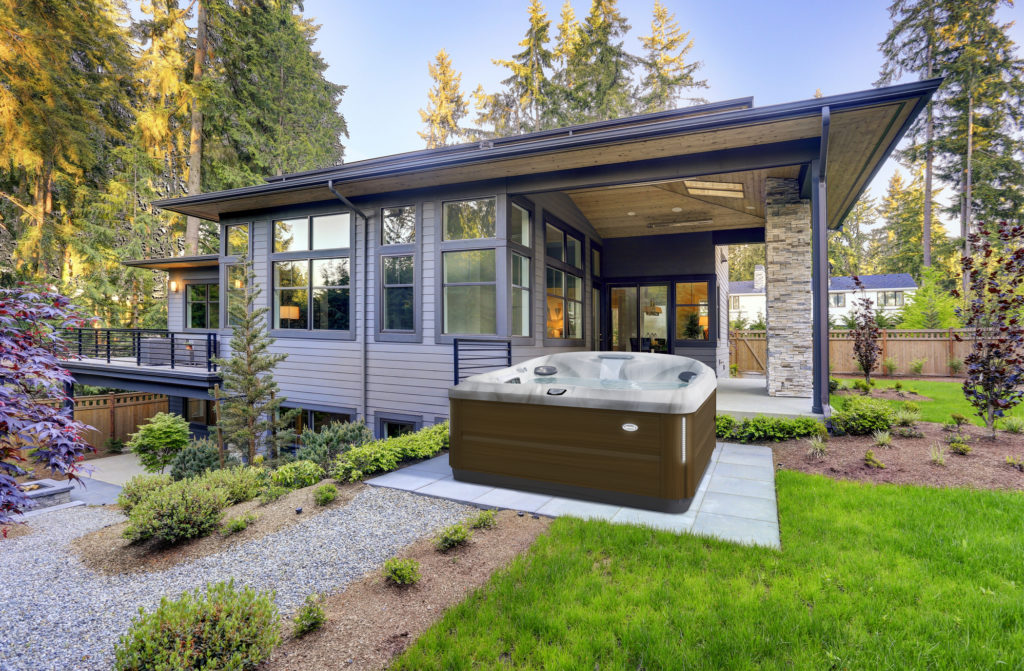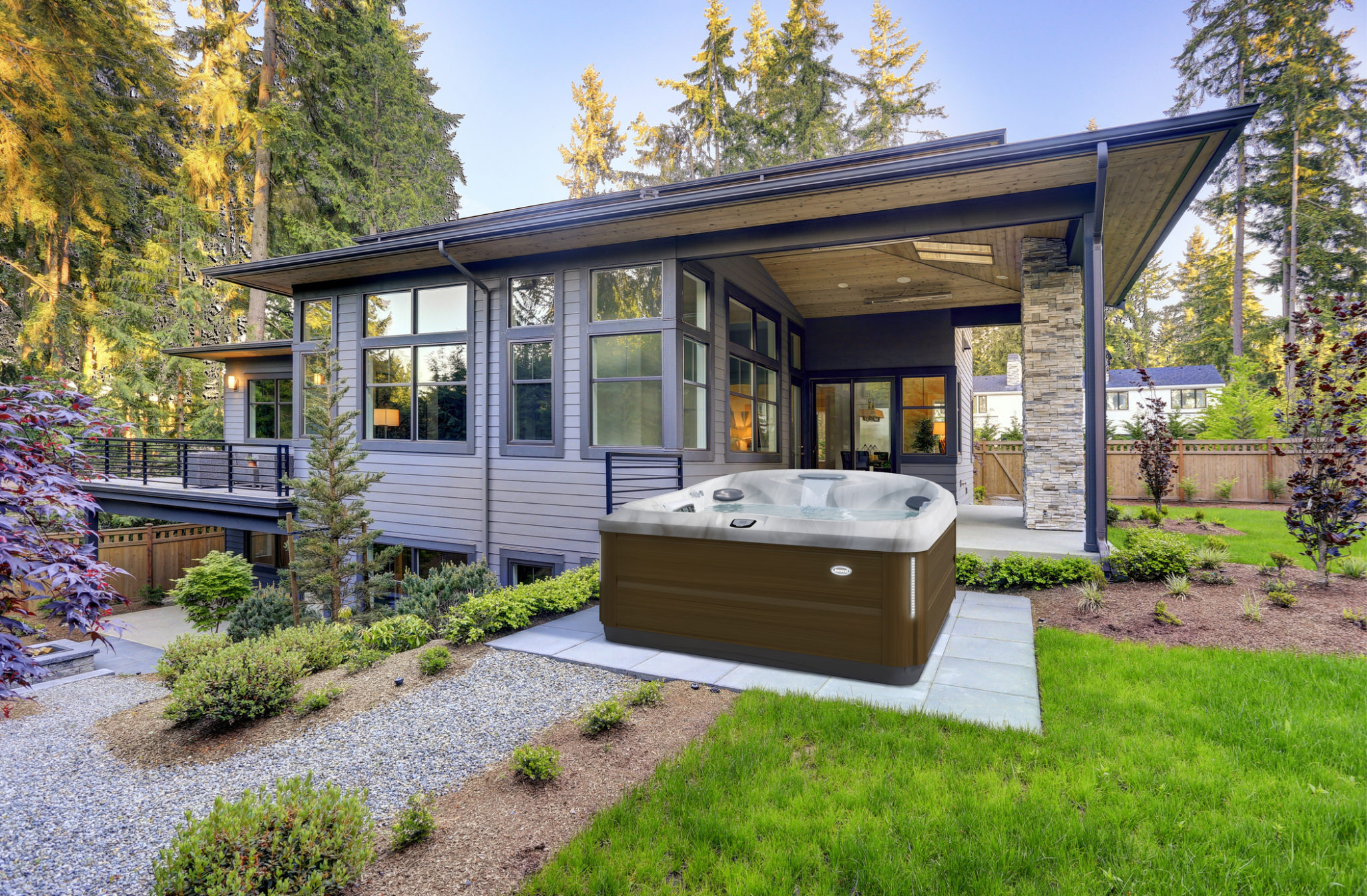 Backyard Swim Spa Design Decisions
Hydropool Swim Spas offer the same features of a hot tub with comfortable seating and jets positioned to allow you to unwind and relax but with the added design of an open area that allows you to conduct low-intensity, water-based exercises in the comfort of your swim spa.
The heat and effervescence created from the bubbles passing over you as you exercise will assist you in achieving muscle and joint relief. There are three collections carried at the Van Dorn Pool and Spa stores located in Maryland and Pennsylvania. These are:
Each collection is designed for your individual needs with multiple models available in the Aquatic Collection and the Executive Collection.
The biggest difference between the two collections is that the Executive Collection, while still offering seating and jet position for relaxing, is more focused on the exercise functionality, while the Aquatic Collection achieves a more balanced blend of exercise and relaxation functions.
Swim Spa Decor Decisions
Decor decisions for the swim spas are similar to the hot tubs.
Due to the dual function of the swim spas (or all season pools) they are a longer rectangular size. This is to accommodate the swimming functionality and so, this extra length will need to be taken into account when deciding on the layout and space required to install your swim spa.
You'll need to decide what style of deck you want, with allowances for more accessibility for swim spa maintenance.
Due to the size of a swim spa and the functions they offer, you might not be as focused on the view, but more on making the most of the space around the swim spa.
Also referred to as an all season pool, consideration needs to also be given to your backyard goals. Do you want to have access to a swim spa all year round? We're guessing you do, so we recommend that you plant seasonal flowers, move furniture depending on the season, or add a spa umbrella when the seasons become warmer.
Swim spas at Van Dorn Pools and Spas can be customized to suit your decor colors and needs. This is why we recommend choosing your swim spa or hot tub first and then customizing your decor to fit.
If you're not sure about what will work best for you, one of our buyers guides can help.
Transform Your Maryland or Pennsylvania Backyard Today
Did you find the information in this article helpful? Find more useful backyard design and decor tips about hot tubs and swim spas in our blog and online resource center. You can also find information to help improve your overall health and wellness. For instance, this article about improving your sleep patterns and easing stress levels.
Our experts at Van Dorn Pools and Spas are always here to help, that's why we have a fully-loaded owner resources section on our website, along with a variety of frequently asked questions. If you're ready to take the next step and find the best hot tub or swim spa for your dream backyard, contact our experts at Van Dorn Pools and Spas today.
We are more than happy to help you browse our selection of hot tubs for sale and then brainstorm unique ideas to incorporate it within your backyard living space. We're here to help. We'll ensure that together, this investment is one that's long-lasting and fits your needs.