One of the most rewarding things about relaxing in your swimming pool, is that you can update and accessorize with modern swimming pool features it to reflect your own personal style.
There is also the whole backyard area that could be revamped and refreshed! If you are looking for ideas on how to include more seating, involve a conversation piece, or even incorporate some music, the list below is a great place to start.
The following swimming pool features are a great way to enhance your outdoor area!
4 Top Swimming Pool Features That Every Backyard Pool Needs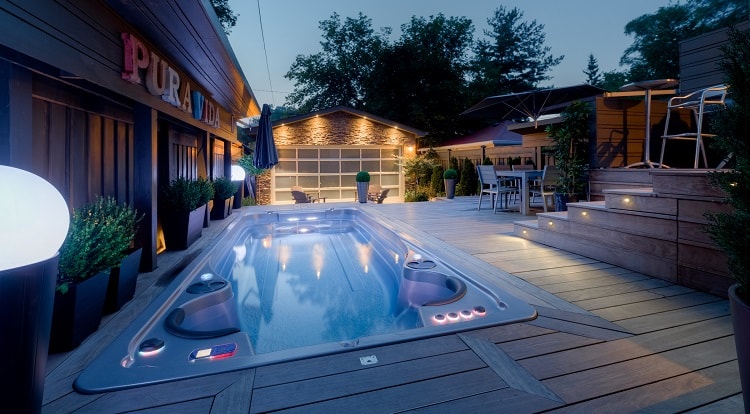 1. Increase Seating
If your parties are too big for all the seating that you have to offer, it may be time to include some more. There are many styles and different levels of functionality available.
Live edge benches could be used to increase seating, while offering a rustic and natural feel for your guests.
Ottomans that open to offer storage options are great for a small space, and for keeping your pool supplies out of sight. For a less permanent and very portable option, consider large weatherproof cushions.
2. Light Your Fire
Fire pieces are a great way to incorporate another natural element into your backyard. They are available in many different styles and options. For a larger backyard, a traditional fire pit is a great way to offer some excitement to many guests. If you have a smaller, more intimate area, you may want to consider a fireplace, or even a fire table.
Both of these options are great for a smaller gathering and can really be a conversation starter. Fire features are a great way to add some drama and contrast to your backyard.
3. Waterfalls
Waterfalls can offer the soothing sound of running water, and act as the ultimate spa sound for you and your guests. There are many types available. Some can be installed directly into the pool.
There are also smaller fountain styles that are available for your deck or gazebo. Your pool supply store can help to advise you as to which would be best!
4. Make Some Noise
Outdoor speakers can help to keep your private conversations private from neighbors. They are also great for adding some ambiance to a pool party. There are several styles that are available, and some can even be controlled from your smartphone!
Even if you are just tidying up around the yard, or completing some yard work, chores are easier with some music on!
Pool Companies in Maryland & Pennsylvania
Van Dorn Pool & Spas has locations in Kingsville, Reisterstown, and Shrewsbury, so that professional advice is available wherever you are. We offer many different swimming pool features and accessories and are excited to help you make your pool your own.
With knowledgeable and friendly staff, our team is easy and enjoyable to work with. The teams at our maintained showrooms are always happy to work with you on your outdoor projects.
With many five-star reviews, they are trusted by pool owners in the greater Baltimore area! If you are looking for some ideas to spruce up your outdoor space, be sure to spend some time on our online blog!