Hot tubs and spas provide the ideal space for relaxation, therapeutic healing, and even some fun with friends and family.
But the experience isn't just limited to warm water and jets.
There's a world of hot tub accessories waiting to enhance your soak, ensuring safety, adding therapeutic value, or simply boosting the fun factor.
Are you eager to take your next dip to unprecedented heights?
Read on and discover 12 hot tub accessories that can transform how you use and enjoy your spa!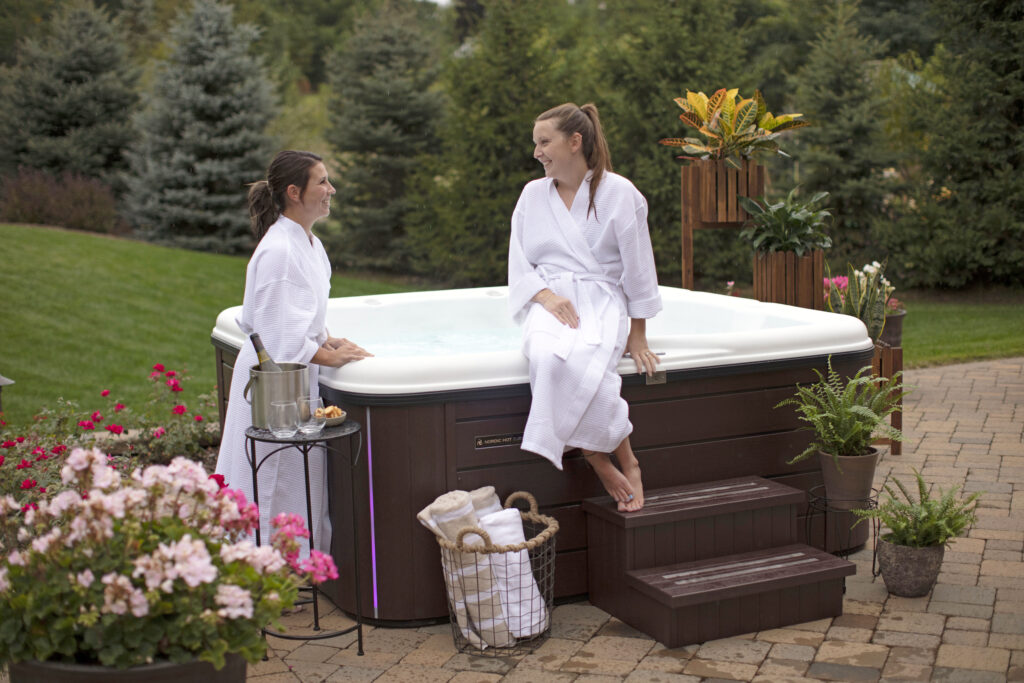 Hot Tub Accessories For Safety and Accessibility
The first category of hot tub accessories is arguably the most important one on this list. The safety of you and your loved ones should always be a top priority.
Thankfully, there are plenty of accessories that not only ensure safety but also provide convenience.
Hot Tub Cover
Hot tub covers serve as the first line of defense in maintaining the pristine condition of your spa.
They prevent debris, such as leaves and dirt, from entering and contaminating the water, making them essential for ensuring water clarity and cleanliness.
Additionally, these covers play a pivotal role in heat retention, allowing the hot tub to maintain its temperature over extended periods, thus saving energy and reducing heating costs.
And finally, they're one of the most significant safety features you have in keeping animals and young children out of your water.
Cover Lifter
Cover lifters are the unsung heroes among spa accessories.
As hot tub covers can be cumbersome and heavy, lifting them without assistance can be a hassle.
A cover lifter can help make opening and closing your hot tub cover easier, ensuring the longevity of the cover by minimizing wear and tear.
Above all, it ensures you can continue to enjoy the relaxation your spa provides even after you step out of the water.
Instead of struggling with a heavy cover, you can easily place it back over your water with minimal effort, keeping those soothed muscles free from strain!
Cover Locks
Security and safety are paramount when owning a hot tub. Cover locks help ensure that your spa remains inaccessible to children, pets, or potential intruders when not in use.
These locks also help to keep the cover firmly in place during windy conditions.
Given the importance of maintaining a secure environment around any body of water, investing in a robust cover lock system is a crucial decision for every hot tub owner.
Hot Tub Steps
Steps provide a safe and comfortable way for you and your loved ones to enter and exit your hot tub.
They come in various designs, materials, and finishes, allowing you to choose ones that complement their spa's look and backyard aesthetic.
If you want ones that seamlessly meld with your spa's cabinet, talk to your dealer about steps that have been designed to specifically go with your cabinetry.
Furthermore, steps equipped with anti-slip surfaces ensure that you can climb in and out of the tub with confidence, even when the steps are wet.
For those looking to add a touch of luxury and functionality, consider investing in a set of steps that includes built-in storage compartments, perfect for stowing away spa essentials.
Handrail
Another vital safety addition, a handrail acts as a sturdy support, assisting you every time you use your spa.
It offers an additional grip, reducing the chances of slips and trips, ensuring guests of any age can enjoy your hot tub free from the struggle of climbing in and out without support.
Additionally, handrails can be both functional and stylish, with designs ranging from minimalist to ornate, catering to various aesthetic preferences.
Spa Side Umbrella
The spa side umbrella is a versatile accessory, offering protection from various weather conditions.
On sunny days, it can shield you from direct sunlight, providing a shaded oasis for a more comfortable spa experience.
When it's raining or snowing, it ensures that the fun doesn't stop, allowing you to enjoy the toasty water with the soothing ambiance of trickling rain or falling snow.
With that said, umbrellas don't just provide a comfortable atmosphere for you; they also protect your water!
UV rays from the sun can break down the treatment products in your water, reducing their effectiveness and leading to more frequent treatments.
An umbrella will help ensure this doesn't happen during those times you choose to enjoy a mid-afternoon soak!
Often made from durable materials and available in various colors, these umbrellas not only add functionality but also enhance the overall ambiance of the spa area.
Mounted or Floating Bar Table
While some hot tubs have built-in cup holders, like the J-315™️ model from Jacuzzi®️, other models may not.
However, having somewhere to place your drinks is crucial to an enjoyable and safe experience.
While you're enjoying the crystal clear, warm depths of your spa, you'll need to stay hydrated to combat the water loss from your sweat.
If your hot tub doesn't have cup holders and is not located near an area where you could set down your drinks, adding on a mounted bar or investing in a floating table can be the perfect solution.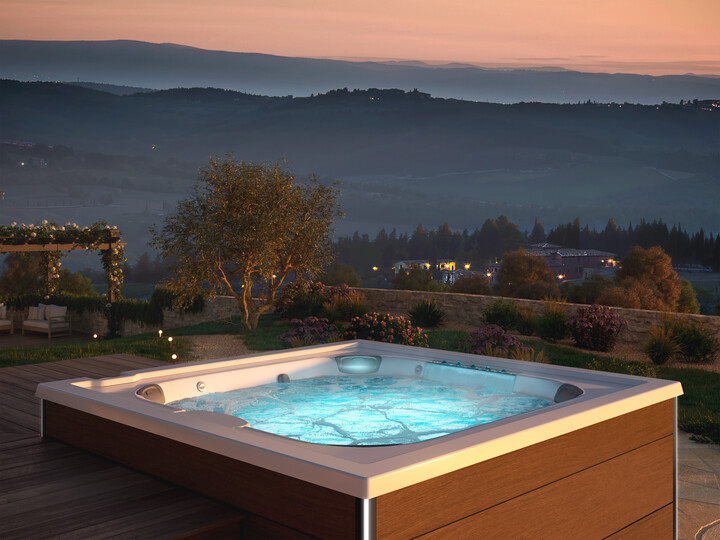 Therapeutic Hot Tub Accessories to Amp Up Your Benefits
One of the main reasons people invest in a hot tub is for the many health and wellness benefits they provide.
With the right additions, you can put these benefits into overdrive, soaking up even more soothing relief!
Aromatherapy
Harnessing the power of aromatherapy in hot tubs provides both physical and mental health benefits.
When steam mingles with these hot tub safe aromatherapy products, it creates an aromatic haven that can soothe the mind and invigorate the senses.
The variety of scents available means you can easily tailor every spa session to what you need on any given day!
Are you struggling with congestion? Opt for some eucalyptus or peppermint.
Trying to coax your mind into a calm state and promote full body relaxation? Reach for lavender or jasmine.
But remember, never use essential oils or traditional bath bombs in your spa. It can wreak havoc on your water!
Instead, stick to aromatherapy products that have been specifically formulated for hot tubs.
Lighting
Lighting plays a crucial role in setting the mood for a spa session.
LEDs and fairy lights, with their myriad of colors, allow you to customize the ambiance of your spa.
From the gentle glow of soft white lights to the playful shimmer of color-changing modes, these lighting options can transform a regular spa session into a magical experience.
Besides aesthetics, well-placed lighting can also ensure safety, illuminating steps and edges.
Bluetooth Speaker
Music has the power to elevate any experience, and spa sessions are no exception.
Bluetooth speakers designed for hot tubs provide crystal-clear sound while being resistant to the water and humidity spas produce.
Whether you're in the mood for calming instrumental tunes or a lively playlist, these speakers ensure that your favorite tracks can accompany your soak.
With advancements in technology, many of these speakers also come with features like voice commands and integration with virtual assistants, making it truly effortless to shuffle between songs hands-free!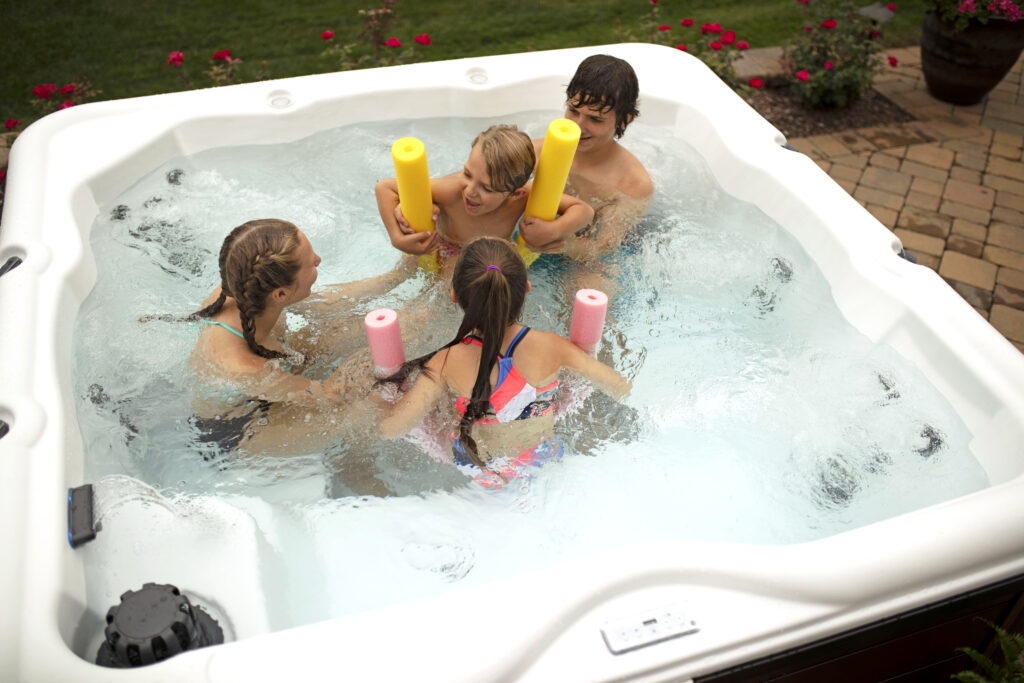 Hot Tub Accessories to Transform Your Aquatic Fun
Hot tubs aren't just for relaxation; they can be centers of entertainment, too.
Whether you're throwing an epic hot tub party or are keeping your kids entertained during some quality family time, accessories designed to amplify your fun are a must!
Waterproof Games
Waterproof games, such as floating board games, cards, and puzzles, add a fun element to your spa experience.
Whether it's a competitive round of waterproof chess or a casual game of cards with friends, these games ensure that there's never a dull moment in the tub.
Pool Noodles
Last on our list, is a timeless favorite: pool noodles!
These fun foamy additions are perfect to keep your kids entertained while allowing them to float around the water without falling into the deeper center.
But these can be used for far more than keeping your kids busy; they're also a great way to add some exercise to your spa session!
Upgrade Your Time in The Water With The Hot Tub Accessories at Van Dorn Pools & Spas
When paired with the right hot tub accessories, your spa can become a luxury oasis that enhances your time at home.
At Van Dorn Pools & Spas, we're passionate about bringing fun, and relaxation to your Maryland or Pennsylvania backyard.
Whether it be through a premium hot tub or a new pool, our team is here to help you reimage your outdoor space.
We'd love to help you bring your backyard dreams into reality. Contact us today, or visit us in one of our three showrooms to explore all our backyard leisure products, or find the perfect way to transform the safety, accessibility, and enjoyment of your spa!