Adding an outdoor hot tub to your backyard can be a powerful way to support your health and well-being and can help create unforgettable memories all year long.
With so many outdoor hot tubs on the market, it's hard to know which one would be best for you.
That's why we've created this guide!
Buying an outdoor hot tub should be a fun and exciting adventure, not one that leaves you stressed and feeling unsure about your choices.
In this guide, you'll discover the top ten outdoor hot tubs and learn what makes them stand above the rest.
What to Know Before Buying an Outdoor Hot Tub
Before you begin exploring the outdoor hot tubs in this list, you should first get a better understanding of what it is you're looking for.
Some things to consider include:
How many people will be using it
How big is your backyard
What do you want to use it for
Your budget
Knowing these things will help you be able to identify which outdoor hot tubs offer the features you need.
When it comes to size, if you plan on throwing some extravagant hot tub parties and love the idea of sharing your hot tub with all your friends and family, you'll want to consider a larger hot tub. However, if you prefer to soak in solitude, you'll be on the lookout for a more compact model.
Your backyard is a big factor in your hot tub options. If you have a lot of space to work with, you'll be able to choose any model you'd like, however, if you have a smaller backyard, your choices may be more limited because you'll need to stick to a smaller spa to keep your yard from becoming overcrowded.
Hot tubs offer a wide range of benefits, and what you want to experience from yours will influence the features your spa should have.
For example, if you work a job that leaves you feeling stiff and sore by the end of the day or struggle with chronic pain, a model that includes a lounger would be ideal. This way, you'll be able to experience a full body deep tissue massage and target every muscle that needs it.
Once you can easily answer the above questions, you just need to decide on a budget and start searching for your perfect model!
The Best Outdoor Hot Tubs For 2023
To make this as easy as possible, we've organized this list taking into account the hot tub size, brand, and cost.
In this list, the hot tub size will be based on seating capacity. Small outdoor hot tubs offer a seating capacity of two to four people, while medium models include seating for five or six, and large ones seat seven or more.
Let's get started!
Small Outdoor Hot Tubs
Jacuzzi® Hot Tubs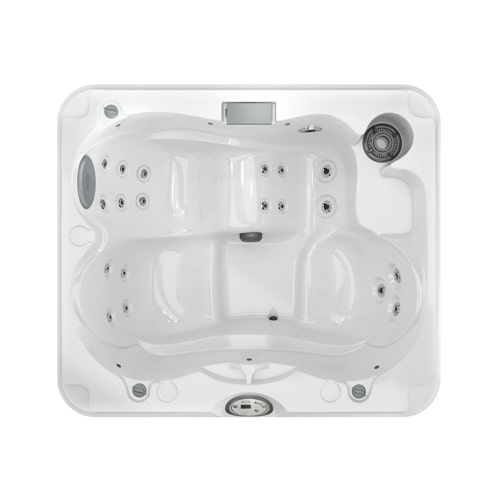 J-215TM ($$)
With seating for up to three people, the J-215TM is ideal for small spaces and includes a lounger to give you the option of a full-body massage. This spa also offers two deep seats with various jet placements, allowing you to customize your back massage when needed.
The J-215TM has been outfitted with Jacuzzi® Hot Tubs' classic jet system, giving you the perfect massage experience without leaving you feeling itchy from the pressure.
J-325TM ($$$)
The J-325TM offers a luxurious experience despite its compact size. The model was designed for maximum comfort and was updated to maximize its hydrotherapy benefits with PowerPro® FX Jets, targeting those smaller muscle groups with precision.
Enjoy a foot massage from any seat in the spa using the lower jets while you listen to the gentle sound of falling water from the included Water Rainbow® feature.
Nordic Hot TubsTM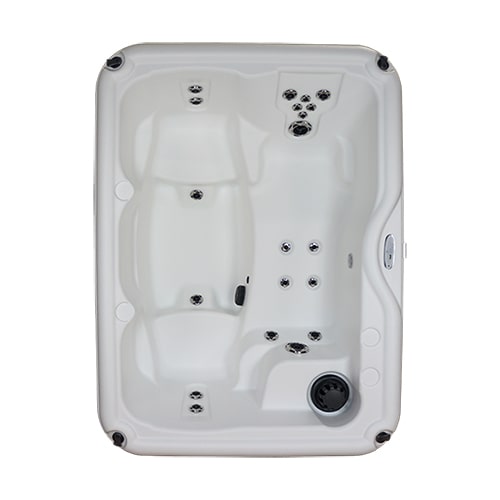 Stella MSTM ($$)
With convertible power settings, the Stella MSTM is suited for any location. With its compact size and budget-friendly pricing, this outdoor hot tub makes getting a quality spa experience accessible for everyone.
This spa offers two deep bucket seats with jets to target both your upper and lower back and even includes jets to massage your feet as you sit back and unwind. Even with its small size, this model includes a No-FloatTM lounger, so you can settle in for a full-body massage anytime you need it.
D'Amour SETM ($$$)
The D'amour SETM is a stunning solution for those with small backyards. With its unique triangular design, this spa is easy to tuck in the corner of your yard, maximizing your usable space.
This outdoor hot tub includes two deep bucket seats side by side, creating a relaxing and intimate atmosphere for two. With powerful jets that massage every muscle in your back and smaller ones targeting your wrists, your upper body will be soothed into deep relaxation from your neck to your fingertips.
Medium Outdoor Hot Tubs
Jacuzzi® Hot Tubs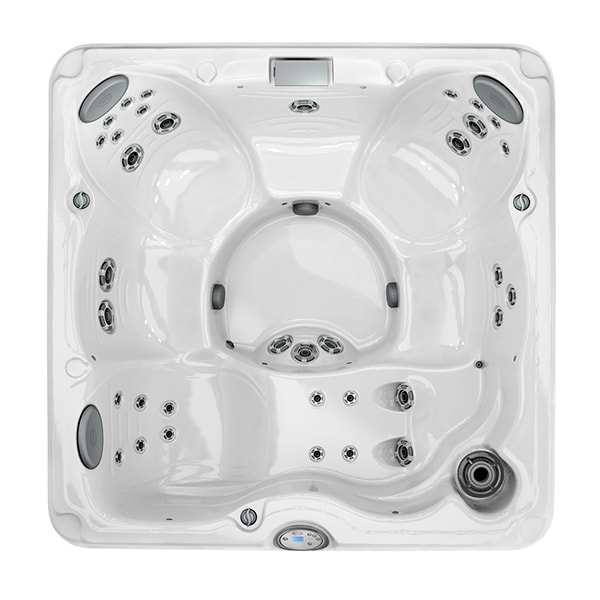 J-235TM ($$$)
The J-235TM offers a full lounger complete with powerful jets to massage your back, calves, and feet, ensuring you leave the spa feeling relaxed from head to toe. This hot tub includes different jet placements for each seat, providing maximum flexibility to meet your ever-changing needs.
To gently ease the stress on your feet, this model includes a globe of jets on the floor, ensuring you can have an exceptional foot massage from any seat of the spa. The J-235TM also includes four rotational jets that give you added customization of your spa, letting you target your pain with ease.
J-355TM ($$$$)
Are you one of the 66 million adults in the US that suffers from chronic pain? If you are, this model is for you!
The J-355TM includes an extended lounger that's outfitted with a powerful line of jets to massage every inch of your legs as you lay back for a full body massage. It also includes a deep, luxury seat with a striking cluster of jets that have been designed to target every muscle in your back, from your neck to your hips.
To take your relaxation even further, you'll also find jets lining the bottom of the spa, providing a soothing foot massage experience that everyone can enjoy.
Nordic Hot TubsTM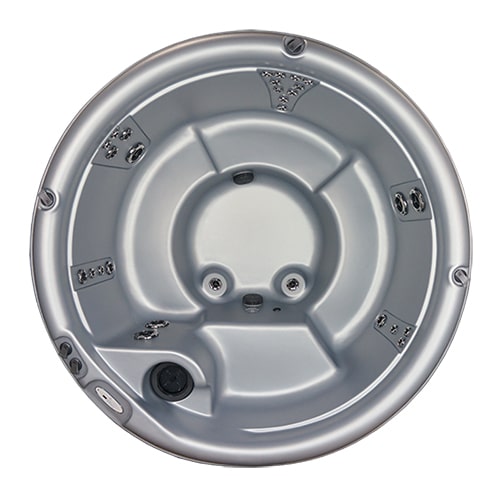 Crown XLTM ($$)
This hot tub was designed with a distinct circular shape, making it easy to fit in a smaller backyard while drastically increasing the number of people you can invite over for a relaxing spa session!
The Crown XLTM provides unique multi-level bench seating, giving you customization over your soak each day. Sink deep in the water for an expansive back massage on a chilly winter day, or perch on one of the high seats to cool off when needed.
This model includes powerful whirlpool jets and Nordic Hot TubsTM exclusive Dual Therapy System, maximizing the hydrotherapy benefits of this spa while maintaining the affordability they're known for!
Encore LSTM ($$$$)
The Encore LSTM is jam-packed with seating options, ensuring you have full control over your massage experience. With their No-FloatTM lounger and five deep bucket seats, you'll never be left wishing for more.
This model makes relaxation easy and gives you ample room to include your favorite people anytime you want. Sit back and unwind as the whirlpool jet pushes the water around the spa, easing your body into pure relaxation.
Large Outdoor Hot Tubs
Jacuzzi® Hot Tubs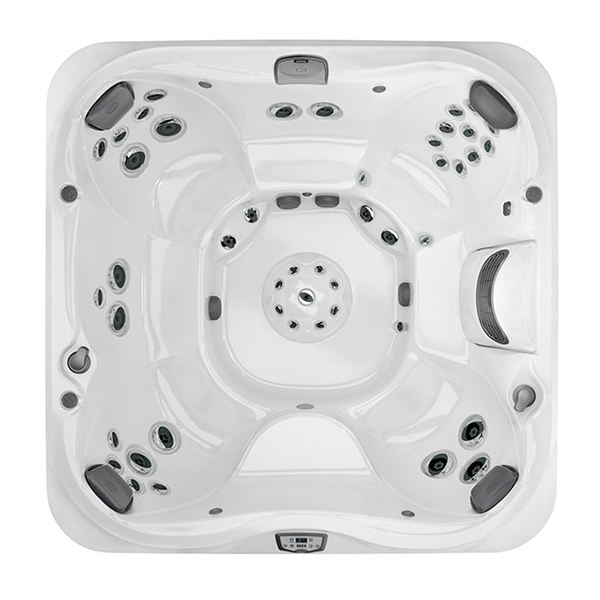 J-385TM ($$$$)
Outfitted with PowerPro® Jets and a unique jetted foot dome, the J-385TM provides a powerful massage experience from any seat, along with ample room for friends and family. This spa boasts seven seats, each with its own unique jet formation, ensuring everyone can receive the massage they need.
This hot tub was designed for pure relaxation and includes Jacuzzi® Hot Tubs PowerPro® Therapy Seat, making for a one-of-a-kind luxury experience as you soak up the hydrotherapy benefits this spa provides.
Nordic Hot TubsTM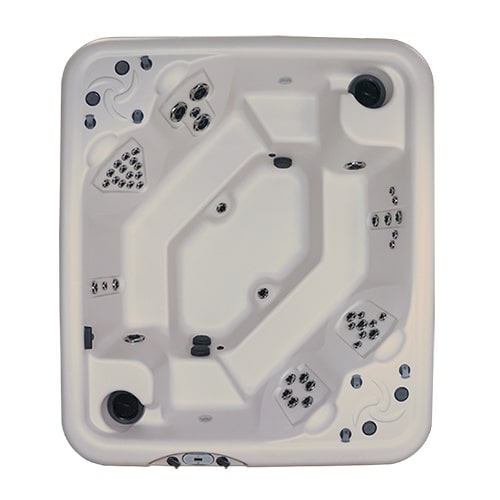 RendezvousTM LS ($$$$)
With room for up to eight adults, the Nordic Hot TubsTM RendezvousTM LS was made for socializing in comfort!
Throw an unforgettable hot tub party, or invite your friend over for a luxurious spa day in your backyard. This hot tub was designed with a total of seven different jet variations, giving every person a unique massage experience.
With the brand's exclusive DTSTM, Dual Therapy System, you'll experience a massage unlike any other. These jets combine high water flow with a circular motion, ensuring no muscle is forgotten during your session!
This model also includes two stunning bench seats, ensuring you'll be able to carry on a conversation with your loved ones easily.
With its competitive pricing, updating your backyard with this luxury spa will be more affordable than you might think!
Outdoor Hot Tubs for Sale at Van Dorn Pools & Spas
Discovering your dream hot tub shouldn't be hard. Our team of experts takes your needs seriously and is on a mission to help you find your perfect match.
When you shop with us, you'll be able to explore your options effortlessly as one of our members guides you through the process and shows you the models that have the features to match your unique needs.
Ready to discover your dream outdoor hot tub?
Proudly serving the communities of Maryland and Pennsylvania with showrooms in Kingsville, Reisterstown, and Shrewsbury, our team is ready to help.
Visit your local showroom, or contact us today to get started!